Cap and Gown
How to order your cap and gown:
Contact Jostens to place your cap and gown order. You may do this online at college.jostens.com or via the consumer call center at 1.800.854.7464. The consumer call center is available to take orders from 7am to 7pm Central Standard Time, Monday – Friday.
Cap and gown orders must be placed no later than TBD. All orders placed after this deadline date will incur an additional $20 rush shipping charge.
All cap and gown orders will ship directly to you, at the address that you provide, upon placing your order. Orders usually ship within 4 weeks.
TBD is the last day for Express Shipping orders. Students may order after this day, but must make special arrangements with Jostens for delivery/pick-up.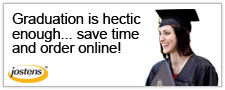 Information on costs*:
Associate cap, gown, tassel, and zipper pull - PRICE: TBD for shipping plus appropriate tax.
Undergraduate cap, gown, tassel, and zipper pull - PRICE: TBD for shipping plus appropriate tax.
Graduate cap, gown, tassel, zipper pull and hood - PRICE: TBD for shipping plus appropriate tax. Please note - Graduates graduating with two degrees will need to purchase a second Master Hood at an additional cost of TBD.
Hood Degree Colors:

MA in Counseling Psychology/Master of Counselling: White
MA in Management: Drab
MA in Leadership: Drab
MBA: Drab
M.Ed.: Light Blue
M.Ed. (Guidance and Counseling; School Counselling): Light Blue
MIT: Light Blue
MPA: Peacock
MS in Computer Systems: Gold
MS in Project Management: Gold
MS in Information Security: Gold
MS in Technology Management: Gold
Doctoral - Light Blue

Canadian students – In addition to cap, gown, tassel, and hood cost you will be responsible for customs/duty fees. There is no difference in cost for Canadian students, all fees must be paid in U.S. dollars. To avoid customs/duty fees You may arrange to have your cap and gown shipped to the Seattle Campus for pick up at the Graduation Help Desk at the Key Arena on the day of the ceremony by notifying us via email that you have ordered your cap and gown and are having it shipped for pick-up. Provide your name, contact number, and a copy of the shipping order confirmation number from Jostens. You should provide the following address for shipping: Attn: Cap and Gown Pickup, CityU, 521 Wall Street, Seattle, WA 98121).
*Prices are subject to change. Contact Jostens for complete pricing information.
Please be prepared to provide the following information when ordering:
Mailing address
Male or female
Height and weight
Degree
Cap size: is "one size fits all"
Payment information – If ordering online you may use a credit card or Visa/MasterCard debit card. If ordering by phone you may use a credit card, Visa/MasterCard debit card, personal check, or money order. Please note: a regular bank debit card will not be accepted for payment.